Anna Gordy, ex-wife of Marvin Gaye, dies
(CNN) -- Anna Gordy Gaye, the sister of Motown's founder and ex-wife of late legendary singer Marvin Gaye, has died.
She was 92.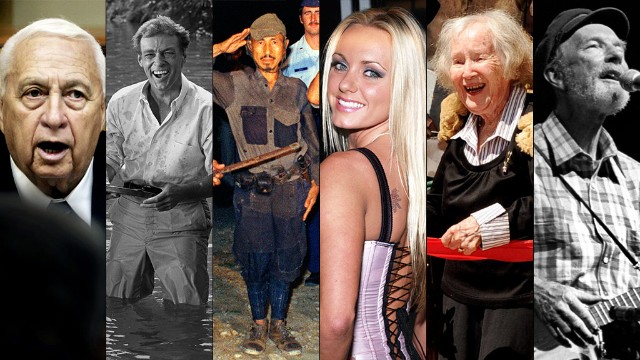 She died early Friday surrounded by relatives, her family said in a statement.
Her 14-year marriage to Gaye ended in divorce, but not before she inspired some of his songs, including "Pride and Joy" and "You're a Wonderful One."
The couple divorced in 1977 but remained friends until his death seven years later, the family said. He was shot by his father with a gun he'd given him for safety.
She is survived by a son, Marvin Gaye III, and two brothers, including Berry Gordy, who founded the Motown record label.
January 31, 2014 5:45 PM ET
Anna Gordy
PoPsie Randolph/Michael Ochs Archives/Getty Images
Gordy Gaye played a key role in Marvin Gaye's life, both personally and professionally. The pair met during a performance at Berry Gordy's house in 1960 and married three years later. Early in his career, Gaye worked as a drummer for Anna Records, a record label founded by Anna and her sister Gwen with songwriter Roquel "Billy" Davis. His early singles "Pride and Joy" and "Stubborn Kind of Fellow" were dedicated to Anna.
Gordy Gaye herself cowrote three of Marvin's songs: "God Is Love" and "Flyin' High (In the Friendly Sky)" from 1971's landmark album
What's Going On
and "Just to Keep You Satisfied" from 1973's
Let's Get It On
.
Gordy Gaye's marriage to Marvin was one of the most turbulent in music, marked by frequent fighting and infidelity. (Gaye fell in love with 17-year-old Janis Hunter during the recording of Let's Get It On). When Anna filed for divorce in 1975, the proceedings lasted more than two years before the marriage was officially dissolved.
"The marriage was troubled from the start," Marvin
told
biographer David Ritz. "There was tremendous love between us, and tremendous need for one another. But I couldn't be controlled – not by a wife, not by a manager, not by a record company. I was born a ram and a rebel."
The divorce became the cornerstone to one of the stranger creation backstories in music. With little cash to pay for back taxes and Anna's divorce settlement, Gaye agreed to pay Anna $600,000, with the first $307,000 coming from an advance against royalties off his next album and the remaining $293,000 to be paid from any future royalties. Gaye began work on
Here, My Dear
, a brutally honest autobiographical account of his relationship with Anna; its titles –"When Did You Stop Loving Me, When Did I Stop Loving You," "Anger" – exemplified the album's personal themes.
Here, My Dear
told specific stories about the duo's past, causing Anna to consider a
$5 million invasion-of-privacy suit
against Gaye.
"I figured I'd just do a quickie record – nothing heavy, nothing even good," Marvin told Ritz. "Why should I break my neck when Anna was going to wind up with the money anyway? But the more I lived with the notion of doing an album for Anna, the more it fascinated me. Besides, I owed the public my best effort. Finally, I did the record out of deep passion. It became a compulsion."
Critically maligned upon its 1978 release (disco fans did not want to hear a double-album about breakups and heartache), Here, My Dear has since became an essential album in Gaye's catalog and is often cited as one of his best works. Gordy Gaye and Gaye reconciled in the early 1980s, with Anna by Marvin's side at the 1983 Grammy Awards. She later accepted his induction into the Rock and Roll Hall of Fame.
Anna Gordy Gaye is survived by her brother, Berry, and her son, Marvin.


Read more: http://www.rollingstone.com/music/news/anna-gordy-gaye-ex-wife-of-marvin-gaye-dead-at-92-20140131#ixzz2s4gr3kNV
Follow us: @rollingstone on Twitter | RollingStone on Facebook